beatrice_otter
Okay, here I am to pimp my fandoms for Yuletide. Some of them, you know, but one of them I bet you've never heard of.
Donovan's Reef
is a morality play about racism disguised as a sixties action-romcom starring John Wayne and Lee Marvin.

It takes place in French Polynesia, in the sixties. Twenty years earlier during WWII, three US Navy guys washed ashore and fought the Japanese with the help of the natives.* Two of them (Dr. William Dedham and "Guns" Donovan (The Duke)) stayed, one to open a hospital, one to run a shipping company and a bar. The third (Gilhooley, played by Lee Marvin) is a disreputable sailor who shows up regularly to start bar fights. Dr. Dedham married the Polynesian princess Manulani and had three children with her, Lelani, Sally, and Luke.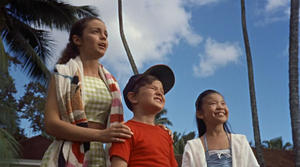 Lelani is a beautiful, poised, teen girl at home in her role as royalty but conscious of what it means to not be white. At the start of the movie, Manulani has been dead for years and Doc is headed off on one of his regular traveling-hospital type trips around the islands, where he will be incommunicado for some time.

BACK IN BOSTON, we find that Dedham has a grown (white) daughter Amelia who has never met him, who is now the CEO of the family shipping business, a very proper (and hypocritical) New England operation. An aunt has just died and left most of her stock to Doc Dedham, which the family (not approving of him running off to the Pacific 20 years ago) wants to swindle him out of. So Amelia sets out to French Polynesia to dig up a reason they can declare that he's not "of sound moral character." (For example, that he's gotten up to something with "one of those native women.")

Guns, Gilhooley, and the Governor of French Polynesia get wind of her visit and decide that the best thing to do is to pretend that Lelani, Sally, and Luke are Guns' children until the Doc gets back to explain things to his Boston daughter.



And so begins the farce. Amelia is charmed by Guns' three "half-caste" children, the governor wants to marry Amelia for her $18 million, Guns and Amelia are sparring and flirting, Gilhooley is picking fights, and Amelia's trying to figure out who this Manulani person was, why her father has a portrait of her, and why no one will talk about her.

Meanwhile, the three kids (particularly Lelani) are watching this from the sidelines, unable to greet their sister as a sister because they are not white.

It all turns out well in the end--Amelia learns the kids are her siblings and embraces them, realizing (at least a little) how wrong prejudice is, and its costs. (She also agrees to marry Guns, but the romance is fairly trite and predictable and there's not much chemistry between the two actors, so I don't usually pay much attention to the love story.) Meanwhile, Lelani is mature and proud of her heritage, and stands up for herself even when that means contradicting an older sister she desperately wants to please.

Now, the movie isn't perfect. It was made during the sixties, and there's plenty of misogyny to go around. And the casting director didn't quite get the distinction between "Asian" and "Polynesian" at all times. And there's some anti-Asian bigotry and stereotypes played for laughs. (Yes, John Wayne character is also played for laughs at times, but it's different for a straight white man who gets some heroic and romantic stuff too. Also, the acting isn't always the greatest, particularly the actress who plays Amelia. On the other hand, the actress who plays Lelani is fabulous. And their handling of the racial issues are surprisingly non-faily for the era, all things considered--I love how Lelani quietly puts Amelia in her place when Amelia starts trying to mock her for following her peoples' religious traditions.

The original trailer is on Youtube.





Note how it never mentions anything but John Wayne's fighting, exotic locations, and the love story--the message of the film is completely missing.

*Okay, in reality the Japanese never reached French Polynesia, please don't let minor details like that get in your way.
Aside from Donovan's Reef, I will be requesting

Reformation RPF
(come on, you can't tell me you've never had a sudden desire for fic about Luther, Melanchthon, and Katherine von Bora et al, where Luther starts theological fights, Melanchthon tries to smooth them over, and Katie pwns them all?)
Briefly: Martin Luther was the guy who started the Protestant Reformation. His original goal, to reform the Roman Catholic church and get rid of its abuses and excesses was thrown out the window when they declared him a heretic for it, so he founded his own church and most of Germany followed. He was a brilliant theologian, and was very pastoral and concerned with the spiritual needs and comfort of his flock. He was also extremely prejudiced, and could be absolutely vitriolic in his denunciation of anyone who disagreed with him. Phillip Melanchthon was his right-hand-man, and though he was less brilliant he was also much better in dealing with people. He was also more willing to compromise, when necessary, leading to Luther (who never compromised) calling him "the pussy-footer." Katharina von Bora was Luther's wife. Sent to a convent at age five when her father remarried, she saw the Reformation as her ticket out and escaped with several other nuns inside empty barrels in a merchant's cart (it was illegal for a nun to leave her convent). She convinced Luther to marry her (although by all accounts he loved her dearly, that came after their marriage). She ran a farm, a brewery, their household, bore and raised their six (iirc) kids, and had time to talk theology with the many students who came to learn from her husband. We know she had a profound impact on Luther and his theology; he talks about her frequently, and called her "my Lord." Alas, because she was a woman, nothing of hers was ever written down.
Curse of Chalion
This is a great series by Lois McMaster Bujold of three books: Curse of Chalion, Paladin of Souls, and The Hallowed Hunt. I'll probably be requesting something from
Hunt
, which is not connected closely to the other three books. I want to know what happens next!
Batman Beyond
This was an awesome cartoon of the 90s. It took place fifty years in the future, when Bruce is a bitter old recluse much too old to go out and be a superhero. A high-school guy named Terry McGinnis sees his father get murdered by Powers, the guy who took over Wayne Corporation, and shortly thereafter finds the batcave. He steals the (new, improved batsuit that can fly and turn invisible) to go after his father's killer, and Bruce reluctantly agrees to train him. Max has a good mother, an annoying kid brother, a cool girlfriend named Dana, and a kickass best friend named Max (short for Maxine). Although there is a whole new crop of heroes and villains, there are cameos from current-day characters, and one of the fun things about the show is to figure out what happened between now and then ... because Bruce sure isn't telling. There is still a Commissioner Gordon ... but it's Barbara, not Jim.